Breaking News from Nigerian Evening Newspapers and Evening News

Monday 11th September 2023

These are Breaking Evening News from popular Evening Newspapers in Nigeria Today .

Read also


Sahara Reporters Latest News Today Monday 11th September 2023

SPOTTED: UAE's statement on meeting with Tinubu silent on visa ban lift
The United Arab Emirates (UAE) did not make any comment on lifting the visa ban imposed on Nigerian travellers in its statement on the meeting its president, Mohamed bin Zayed Al Nahyan, had with his Nigerian counterpart, President Bola Ahmed Tinubu, on Monday. Daily Trust had reported how Tinubu proceeded to Abu Dahbi, UAE capital,

You and your wife not above the law, Gov Abiodun blasts Gbenga Daniel
Ogun State Governor, Dapo Abiodun, on Monday, hit former Governor Gbenga Daniel and his wife, Olufunke, hard over demolition of the DATKEM plaza in Ijebu-Ode, saying the couple is not above the law. Officials of the government on Sunday 'partially pulled down' the five-storey building plaza belonging to Olufunke Daniel, the wife of former governor

BREAKING: Many feared dead in fresh boat mishap
Tragedy struck in Gurin, a suburb of Fufore Local Government Area of Adamawa state, on Monday, as a boat conveying passengers capsized. According to a source, the victims, mostly women and children, were returning from farms and a naming ceremony when the wooden boat sank. The Executive Secretary of Adamawa State Emergency Management Agency, Dr.

Nigerians won't eat good policies, academic union tells Tinubu
The Non-Academic Staff Union of Educational and Associated Institutions (NASU) has told President Bola Tinubu to frame his policies in a manner that will yield immediate results for the masses experiencing hardship. Some of the policies introduced by the Tinubu-led government have led to hardship, especially the removal of petrol subsidy, which tripled the pump

UK opens visa application submission centre in Enugu
The British High Commission in Nigeria on Monday announced the opening of a new temporary submission centre for UK visas in Enugu State from 13 September 2023. This facility will operate out of the Omedel Luxury Hotel, 4/6 Link Road off Pascal and Jerk Bustop, Independence Layout, Enugu and will shortly offer a twice-a-week service,

Tribunal declares Tinubu's Minister As Winner of Senatorial Election
One of the Ministers of President Bola Tinubu has been declared as winner of the February 25 Parliamentary election. Simon Lalong, former Plateau State governor, who was Director-General of Tinubu/Shettima Campaign, was among the seven governors declared as losers of senatorial elections. Tinubu had subsequently appointed him as Minister of Labour. But on Monday, the

UAE lifts visa ban on Nigerians after Tinubu's intervention
The United Arab Emirates (UAE) has lifted the visa ban imposed on Nigerian travellers. The ban, which was imposed 10 months ago had affected activities of Nigerians who were regular visitors to the Middle East country for businesses, tourism and leisure. But President Bola Ahmed Tinubu rekindled the hope of many when he vowed to

Obaseki vs Shaibu: Deputy Gov sent to building under renovation despite peace move
Edo State Deputy Governor, Comrade Philip Shaibu, and his office staff have been sent out of the Government House, Benin. Last week,  Daily Trust had reported the move to relocate Shaibu from Government House. However, some stakeholders waded into the brewing conflict between the first two citizens of Edo, resulting in the deputy governor withdrawing

Daily Trust Invites Nominations for African of the Year 2023 Award
A leading independent newspaper in Nigeria, DAILY TRUST, has called for nominations of exemplary personalities for the coveted African of the Year 2023 award. Nominations are open from September 11, 2023 to midnight of October 16, 2023. In a statement issued on Monday, the Group Chief Executive Officer of the Media Trust Group, proprietors of

Director, board chairman trade blames over revenue in Anambra
Anambra State Board of Internal Revenue Services (AIRS) Chairman, Dr. Greg Ezeilo and the Executive Director Operations of the agency, Dr Christian Madubuko, have traded blames over the revenue profile of the state. The crisis between Ezeilo and Madubuko is also affecting their supporters in the revenue collection of the state. The chairman and the

Akwa United, Heartland face-off in friendly
Akwa United will take on Heartland in a friendly encounter on Tuesday. The match is billed for the Godswill Akpabio International Stadium, Uyo. The match is to prepare both teams for the upcoming 2023/24 Nigeria Professional Football League season. It will be the first friendly Akwa United will engage in since their arrival back in
Akwa United, Heartland face-off in friendly

Messi names world's best defender
Argentina captain, Lionel Messi, has named the world's best defender at the moment. Speaking to Telemundo (via MD), Messi revealed that Tottenham Hotspur's Cristian Romero was the best defender in the world. Messi said, "I think he Rimero is the best defender in the world right now. "He played very well, and, in my opinion,
Messi names world's best defender

DPO's murder: Go after politicians, traditional leaders who sponsor crime – Activist to police
A Port Harcourt-based human rights activist, Charles Jaja, has advised the Rivers State Police Command to go after politicians and traditional leaders who aid and sponsor criminals in their areas. Jaja made the appeal on Monday when he carried out a one-man protest and condolence visit at the state Command Headquarters at Moscow Road, Port
DPO's murder: Go after politicians, traditional leaders who sponsor crime – Activist to police

BREAKING: Tribunal sacks three LP House of Reps members in Abia
Three House of Representatives members, Ibe Okwara Osonwa, Emeka Nnamani and Munachim Alozie, all of the Labour Party (LP), have been sacked from the National Assembly by the National Assembly Election Petition Tribunal sitting in Umuahia. They were removed on Monday after the tribunal agreed with the arguments presented by the petitioners. Ibe Okwara Osonwa,
BREAKING: Tribunal sacks three LP House of Reps members in Abia

Fake commissioner of police, 12 others paraded in Lagos
The Police Command in Lagos State, says it has arrested an impersonator, who has been parading himself before the public as a police commissioner. The command's spokesperson, SP Benjamin Hundeyin, confirmed the arrest on Monday, while briefing newsmen on the recent achievements recorded by the command. According to him, the feat included the arrest of
Fake commissioner of police, 12 others paraded in Lagos

Nigeria's founding chartered accountant, Akintola Williams dies at 104
Akintola Williams, a pioneer chartered accountant in Nigeria and Africa, is dead. The doyen of accounting died at the age of 104. The Institute of Chartered Accountants of Nigeria (ICAN) confirmed his death on Monday. Pa Williams became Africa's first chartered accountant at age 30. The accounting graduate at the University of London was born
Nigeria's founding chartered accountant, Akintola Williams dies at 104

Road collapse: Ogun residents seek govt intervention
Residents of Ilaro, the headquarters of Yewa South Local Area of Ogun State, have sought the intervention of Governor Dapo Abiodun after the Odo Fufu road collapsed over the weekend. The Fufu stream in Ilaro used to have a mini bridge over it for convenient human and vehicular movement within the metropolis, especially for students
Road collapse: Ogun residents seek govt intervention

NERC unveils Power Outage Reporting app
The Nigerian Electricity Regulatory Commission (NERC) has launched a Power Outage Reporting (PORS) app on Monday. Unveiling the app to the public, NERC chairman Sanusi Garba said the commission encourages all electricity consumers to key into the innovation by downloading the PORS app from Apple or Google Play store, adding that its operations are so
NERC unveils Power Outage Reporting app

BBNaija All Stars: Cross emerges week 8 Head of House
Big Brother Naija All Stars housemate, Cross, has emerged as the Head of House (HoH) for this week. Cross emerged the winner after defeating 12 other housemates during the Monday challenge. All the contestants were grouped into three teams to roll snooker balls across a long bar into the provided baskets. The instructive voice in
BBNaija All Stars: Cross emerges week 8 Head of House

Plateau: Tribunal declares ex-Plateau Gov Lalong winner of senatorial election, sacks PDP rep
The National Assembly Elections Petition Tribunal in Jos, Plateau State, has declared Minister of Labour and Employment, Simon Lalong winner of the Plateau South senatorial district. Chairman of the three-member panel, Justice Mahmoud Tukur, who declared the judgement on Monday, stated that the votes scored by the Peoples Democratic Party, PDP candidate, Napoleon Bali in
Plateau: Tribunal declares ex-Plateau Gov Lalong winner of senatorial election, sacks PDP rep
Read also

Nigerian Newspapers Today and

Nigeria News Today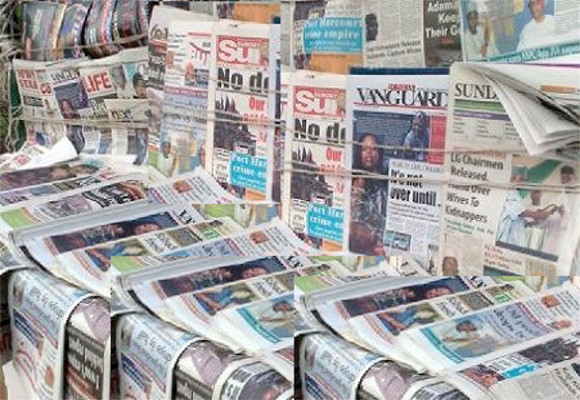 You can also check

Breaking News this Evening in Nigeria